The Venue at Thunder Valley Resort Casino in Lincoln, California, opened in February with sold-out shows by The Eagles, Bruno Mars and Santana. Technology at the resort's recently constructed US$125m, 4,500-seat entertainment venue includes more than 300 Elation Professional lights supplied and installed by Sacramento Production & Lighting (SP&L).
Dion Cook, president/CEO at SP&L, has collaborated with the casino for the past 11 years to equip the resort's former outdoor performance stage with lighting. For the new 150,000ft² indoor venue that has replaced the outdoor amphitheatre, Cook specified a modern, flexible lighting package based around Elation's Artiste series fixtures. "I wanted the horsepower to be able to integrate with any tour that comes in and the flexibility to handle softer theatrical colour palette needs," said Cook.
Working with casino staff, architects and theatrical consultants, SP&L was responsible for providing all the theatrical lighting, house lighting controls, material/pit lift, drapery, automated rigging, trussing and hoists. Cook designed the soco panels and network patch bays to allow travelling acts a flexible and easy environment to integrate tour rigs into the house system.
The newly opened venue has more than 300 Elation lights at its disposal including new Artiste Monet, Artiste Rembrandt, Proteus Rayzor Blade L/S, Arena Zoom Q7 IP, CW Profile HP and DTW Blinder 700 IP fixtures. The new lighting joins other Elation lights that SP&L has brought forward through the years, including Platinum FLX, Platinum Wash ZFX Pro, Platinum 1200 Wash, Platinum Beam 5R Extreme, Cuepix Blinder WW4, Protron Eclypse, Protron 3K LED strobe, and ACL 360i fixtures.
Venue support
SP&L is directly involved with the acts that play at the venue each weekend via lighting tech and stagehand labour. Working closely with in-house production manager Scott Prentice, SP&L limits the design to four or five fixture types across the 300ft of flown truss with a few different versions of floor light packages available that visiting LDs can easily tap into. Cook, who acts as house lighting designer, switches the house rig design every few months to keep the look fresh and interesting for the audience and acts.
The Santana performance on 19 February, which concluded the three shows held over Presidents' Day Weekend, demonstrated the strong collaboration between artist and the venue. Having a long-standing relationship with Michael Ledesma, Santana's lighting designer, Cook collaborated with him to recreate Santana's touring rig as accurately as possible.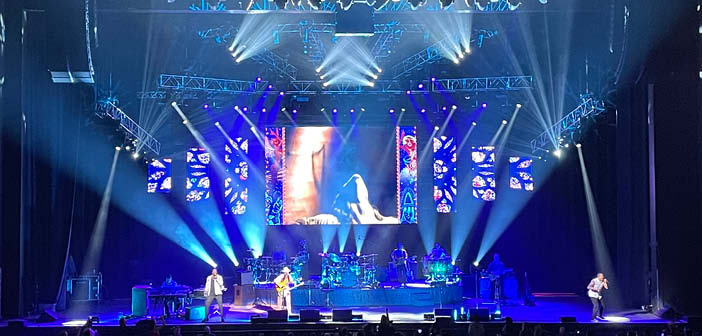 Long relationship
Cook has been utilising Elation products for many years and he emphasises that, although important, the quality of the product is not his main concern. Instead, the most crucial factor for him is the strong relationship he has developed with the company over time. Cook attributes his initial decision to use Elation to John Lopez, who was his sales representative at the time, many years ago. He has since been impressed by the service and support provided by the entire Elation team. Cook says he appreciates knowing that he can rely on their support, even when he is in a remote location late on a Sunday night, as he has personally experienced in the past.
The venue operates as a touring shed for A-list performers, but is also set up to bring in Broadway-quality shows, comedians and other crowd-pleasing acts. A full slate of shows are booked at The Venue for 2023 with musical talent and comedians including Sarah Silverman, Bryan Adams, The Black Crowes, Ringo Starr and many more.